Smiles United is in need of a community site location in Koochiching County.
Please call 218-254-3329 or email info@unitedwaynemn.org if you have suggested locations!
What is Smiles United? 
Smiles United is a school-based preventive and restorative dental program that provides care for uninsured and underinsured individuals of all ages. The program improves the oral health and well-being for patients from birth to 100+ years of age by providing cleanings, fluoride treatments and sealants by way of a mobile dental unit.  "Smiles" was launched in 2009 and typically brings its mobile dental unit directly to all area school districts across the Iron Range and Koochiching County; however due to COVID-19 precautions, the program is currently being held from community sites only (UWNEMN in Chisholm & KOOTASCA in Grand Rapids). 
What is the need?
Tooth decay is the most common infectious disease among children. It is also largely preventable!
Nationally, more than 51 million school hours are lost each year due to tooth decay. By providing the necessary dental care in school, children can easily access necessary preventative care in order to stay healthy!
Children receiving dental sealants in school-based programs have 60% less decay for up to five years. Healthy children feel better in school, which helps our efforts to educate.
28% of Minnesotans do not have dental insurance. 53% of Minnesotans over the age of 65 do not have dental insurance.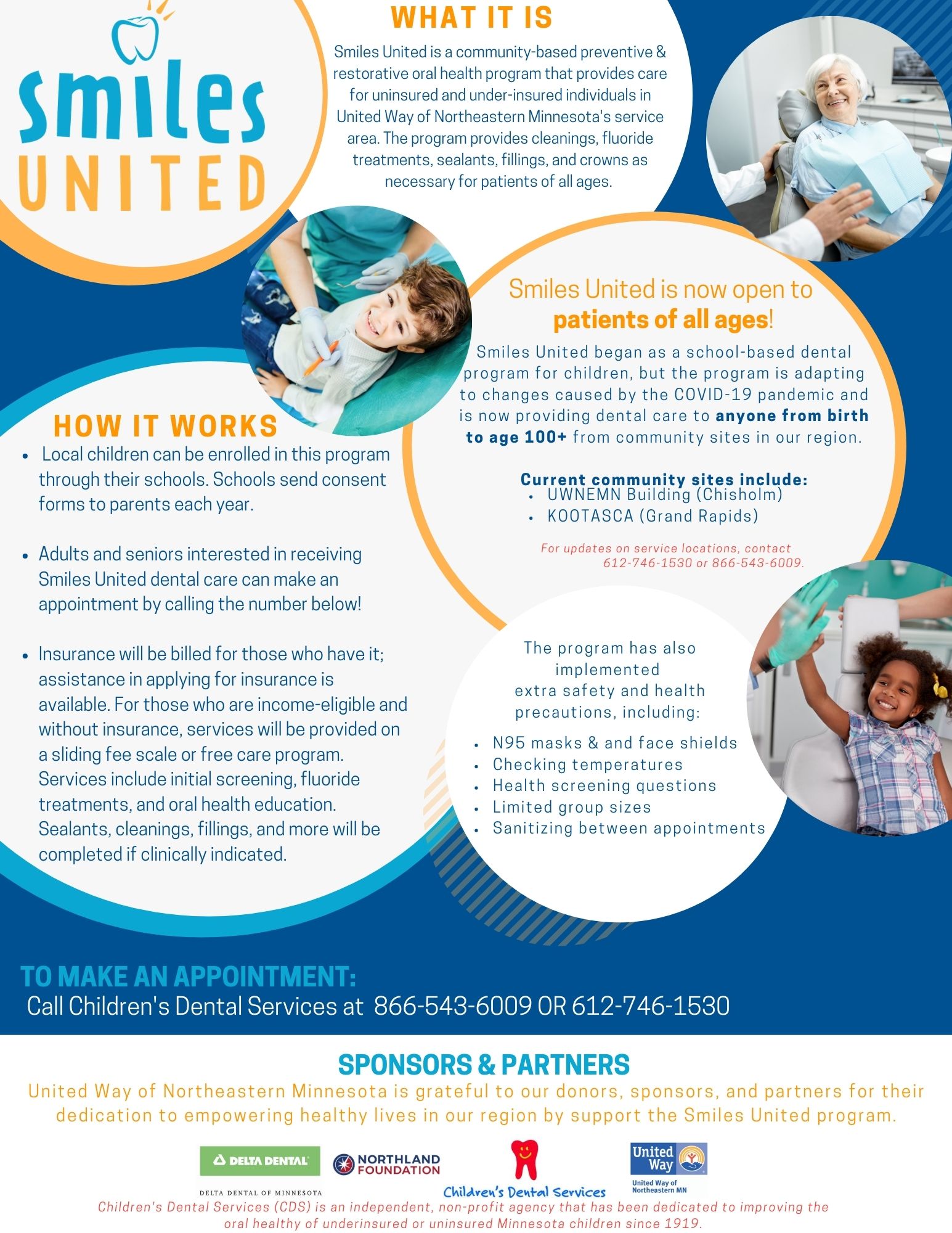 Local children can be enrolled in this program through their schools. Schools send consent forms to parents each year.
Adults and seniors interested in receiving Smiles United dental care can make an appointment by calling the number below!
Insurance will be billed for those who have it; assistance in applying for insurance is available. For those who are income-eligible and without insurance, services will be provided on a sliding fee scale or free care program. Services include initial screening, fluoride treatments, and oral health education. Sealants, cleanings, fillings, and more will be completed if clinically indicated.
Appointments will be held at community sites this year (currently UWNEMN in Chisholm & KOOTASCA in Grand Rapids).
Call Children's Dental Services at 866-543-6009 OR 612-746-1530 to make an appointment.
Children's Dental Services will provide Smiles United dental care at UWNEMN in Chisholm this fall. 
To make an appointment, call 1-612-746-1530.
Due to COVID-19, Children's Dental Service & UWNEMN have implemented the following precautions:
Children's Dental Services staff will wear N95 masks and face shields.

We ask that only one parent/guardian accompany young patients into the building.

We will properly sanitize the office between patients; there will be fewer appointments in a day to allow for cleaning time between patients.

Patients will be screened with health questions, and temperatures will be taken prior to entering the building.

Patients and guardians will be asked to wait in their vehicle between appointments instead of waiting inside the UWNEMN building.
For more information on Children's Dental Services, click here.
To operate Smiles United, we rely on community support.  To make a contribution to Smiles United, designate through payroll deduction at your workplace, donate online today, or send donations to UWNEMN at 608 East Drive, Chisholm, MN  55719. 
Dental care for this program is provided by Children's Dental Services. For questions about their services or to make an appointment, call 1-612-746-1530 or click here. 
If you are a Smiles United location and have questions for UWNEMN, contact Sarah at 218-254-3329 or sarah@unitedwaynemn.org.